Long Island Kung Fu Academy
1530 Old Country Road Plainview NY 11803
(516) 694-1530 (631) 533 -3082
Teaching Excellence-Sifu Rafael R. Gomez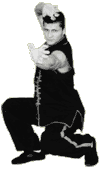 M.A.X. Fitness is proud to bring to you the best in Martial Arts instruction. Sifu (chief instructor) Rafael R. Gomez (Chinese name-Chan Daai Lung 陳 大龍) has been training in Martial Arts since 1975. At first Sifu Rafael started training in the Japanese arts and then found a kung fu group which trained in the basement of a church in Jamaica Queens. Sifu Rafael was 25 years old when he officially studied in a commercial school. Sifu Rafael has dedicated his life to teaching his knowledge of Kung-fu to everyone. Sifu Rafael was adopted into the Tibetan Lama Pai Lineage on September 22, 2002 by Sifu Steven Ventura (chief instructor at Lama Kung-Fu and disciple of Sigon Grandmaster Chan Tai-San). Sigon Chan was considered as one of the foremost authorities of Chinese Martial Arts by the Chinese community.
Biography-Chan Tai San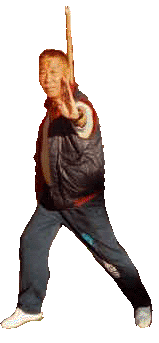 Chan Tai San 陳泰山 (Chan Tai-San) (1917-2004) began his Kung-Fu training at the early age of 8 years old. His first style was Hung Fist (Hung Kuyhnn - the predesessor to modern Hung Ga) taught by a friend of his parents, Yee Hoi-Loong. Grandmaster Chan studied with his Sifu several times a week for 5 years and became very proficient in that style.
He was sent by his family to the Green Cloud Temple where he began training in Kung-Fu and Buddhism. He was primarily a student of the well known Master, Jyu Jik Chuyhn 朱亦傳, but also was trained by Gaai Si Wu Song (Monk Gaai Si) at the temple. At the temple, he trained mostly in the Choi Lei Faht Style , but was taught many others as well.
At 18 he left the monastery to fight against Japanese occupation during WWII. He trained with and served with some of the great Kung-Fu fighters of that time; Cheung Lai-Chung (Bok Mei, White Eyebrow Style), Baahk Mo Jyu, Nicknamed the "White Haired Devil" (Hung Fut Style) and many more.
After the war, he travelled the country meeting and training with more Sifu, like the famous Mok Jing-Kiu (Head of the Mok Family Style) and Chan Sai-Mo of the Choy Lay Fut style. He returned in his 40's to the Green Cloud Temple and learned Lama Pai 喇嘛派 from Jyu Jik Chuyhn.
He became a Master of dozens of Kung-Fu styles and literally every known Chinese Kung-Fu Weapon, Iron Palm, Iron Body and Internal Energy (Chi). He was well respected in China for his Staff technique and was famous for his "Jao-Gung" or Iron-Claw Skill.
He has devoted his entire life to training and promoting Chinese Martial Arts in China and abroad. Grandmaster Chan was the coach of the Guangdong Province Martial Arts Demonstration Team from 1980-1982, and is recognized by the People's Republic of China as one of its 'Living Treasures.
Instructor Training
Instructors at M.A.X. Fitness are taught by Sifu Rafael in all phases of Kung-Fu, and gives the instructors the tools to grow as individuals.  This is reflected in all classes which are taught by the Staff at M.A.X. Fitness. Sifu Rafael and all instructors are kept abreast of the latest in educational and human development theory. Although we base our techniques on centuries old knowledge, it is our application of that knowledge that sets the staff and students apart from the rest. Have you been thinking about your future in Kung Fu, let us help you attain the discipline and knowledge you have been searching for. Call us and set up an introductory class, do it Today
M.A.X. Instructors
Brianne Campbell Asst. Kung Fu instructor
Assistant BlackBelt instructor, 4th degree BlackSash
I started kung-fu in 1998 when I was 4 and a half training under Sifu Rafael at Red Dragon. Like many others I advanced from pee-wee to junior sash. Through hard work and dedication I progressed fast and became a black belt in April of 2005. Believe it or not my mother wanted to get me into martial arts because I was being a bully to my twin sister. The initial goal was to get help with self-discipline and a positive way of thinking. I tried a few karate schools and did not find a place to call home. Then one day my mom took me to Red Dragon Kung Fu and I knew I was home, I was made to feel comfortable and part of the Kung Fu family. I absolutely loved it.
Surprisingly things flipped and I went from being a bully to being bullied in school. Kung-fu taught me how to stick up for myself and help others. At the age of 7 I was invited to join the black belt club. After that I soon joined other organizations such as the splits club, demo team, S.W.A.T team (special winning attitude team) and S.T.O.R.M team (special team of role models) Part of my training involved instructor training which has made me a great instructor.
At the age of 15 I unfortunately did take a break from doing kung-fu which lasted longer than planned. I used to feel guilty preaching "never quit" when I had myself, but I realized I didn't. I never stopped thinking about it and I never stopped practicing; I realized my true calling and returned to it determined to stick with it for life. When I returned I was welcomed with open arms and I could never be happier.
Currently a 4th degree black belt and an assistant instructor under the tutelage of Sifu Rafael Gomez. My aspiration is to become a Sifu myself and own my own kung-fu school within the organization. As an instructor I empower the lives of my students and help bring out their full potential in all they do. We do not just teach punching and kicking, we also teach character development which builds confidence, focus and a yes attitude. As an eager student myself, I always look to understand all there is about Martial Arts and I am proud to say that I learn from everyone I encounter. My passion is Kung-fu and my mission is to pass it on to my students and keep Kung Fu in their hearts and mind.